Mills Productions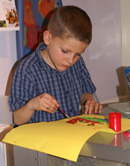 Mills Productions Ltd is a small television production company specialising in issue programmes.
It is run by David Mills, an experienced current affairs producer who has worked for the BBC's Panorama, Thame's This Week and Granada's World in Action, for whom he made over 60 programmes.
The company also serves as the vehicle for David and Clare Mills' research, writing and broadcasting on early years education.