Clare Mills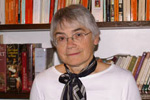 Clare Mills LRCSLT is a Speech and Language Therapist.
She qualified from the Centre for Clinical Communication Disorders, City University in 1984. She joined the Ealing Health Authority that year running a pre-school language group and serving as Ealing's English as a second language adviser.
In 1990 she joined the Parkside Health Authority to run the speech and language units at Mitchell Brook Primary School, Brent. Besides extensive classroom work with five to seven year olds her role involved monitoring children in pre-school, reception, year 1 and year 2 classes throughout Health Authority.
In 1996 she left the Brent Health Authority to work full time for Mills Productions.
She spent time in Hungary that year researching kindergarten, primary and junior schools. This fed into the production by Mills Productions, of videos for Ofsted and the National Numeracy Strategy.
In 1997 she spent several months investigating kindergarten education in Hungary, Switzerland, Belgium and France. This led to the Channel 4 Dispatches: 'Too Much Too Young' and the Mills Productions report for the Government's task force on mathematics:'Britain's Early Year Disaster'.
In 2000 she was joint author of the Mills Production's evidence for the Parliamentary Select Committee on Education's investigation of early years education.
With David Mills she has just completed work on the Channel 4 Dispatches: The Dyslexia Myth. She is now working with him on the research for a further documentary and book on early years education in Britain.
Email: clare@millsproductions.co.uk